BTHVN 2020
The 9-15 March edition of BTHVN 2020 has been postponed until further notice due to Coronavirus concerns. We will be rescheduling later in the year. Please check back in the MMMonths ahead &/or subscribe to our News page for updates.
---
The music of David Bernstein has been performed in many areas of the United States, Canada, South America, and Europe. He has traveled widely and given lectures on his music in Vienna, Paris, Warsaw, Posnan, Krakow, The Eastman School of Music, The University of Alberta, The University of Southern California, New York University, The University of Kentucky, and many others. His music has been published by G. Schirmer, Acoma Productions, Ludwig Music Publications, Willis Music, Abingdon Press, Lawson-Gould, Dorn Productions, Music for Percussion, Inc., Clear Note Publications and Forton Music Publishers (England).
Sheri Brown, Artistic Director of DAIPANbutoh Collective, began dancing butoh 20 years ago when she saw Alan Sutherland and a few other soul- engaging butoh artists perform in the Seattle Butoh Festival that Joan Laage/Dappin' Butoh put on at On the Boards. She is deeply grateful to have since developed not only a deep relationship to these two key individuals in the butoh world, but also the larger, uniquely special community of butoh dancers locally, nationally and globally through her intense and continued two decades of engagement with the butoh dance-theater art form.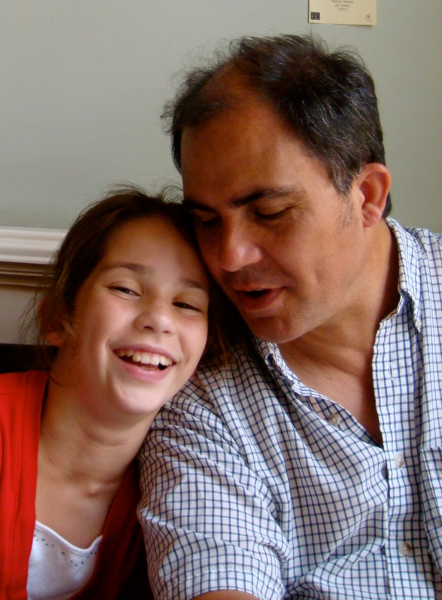 Antonio Celaya was born beneath large Saguaro in Tucson, Arizona in 1956. He studied music at the University of Arizona, which granted him a degree only upon his written promise that he would never again sing Schubert lieder in public.
Celaya corresponded for many years with Livit Fishnard, the 18th Earl of Worcester, an eccentric British philosopher, composer, tango dancer, and frequent asylum resident. Fishnard's influence on Celaya's music was indirect and resulted from Fishnard's bon mot in his letters to Celaya. Fishnard refused to correspond with Celaya unless he promised never to listen to Fishnard's music. Celaya has never heard a note of the British composer's extensive oeuvre.
Diane Chaplin is a featured member of the Portland Cello Project and is often heard in solo and chamber music performances across the globe. She is on the faculty at Linfield College and has taught at Yale University, Bard College, Oberlin, and has given master classes in the U.S., Canada, Mexico, Netherlands, Bosnia and Russia. As a member of the Colorado Quartet, she performed in more than twenty countries and recorded several critically-acclaimed albums. Diane holds degrees from CalArts and The Juilliard School. This summer she made her Italian solo debut and is currently recording a solo CD.
Louis DeMartino is the principal clarinetist of the Hawaii Symphony, the Portland Opera, Oregon Ballet Theatre, and the Colorado Music Festival. Louis frequently performs with the Oregon Symphony and has performed with the Vancouver (BC) Symphony, Astoria Music Festival, Britt Festival Orchestra, Kansas City Symphony, Boston Symphony Orchestra, Omaha Symphony and other orchestras around the country.
Louis received his Bachelor of Music in performance from New England Conservatory and his Master of Music from Rice University. He currently splits his time between Honolulu and Portland, Oregon.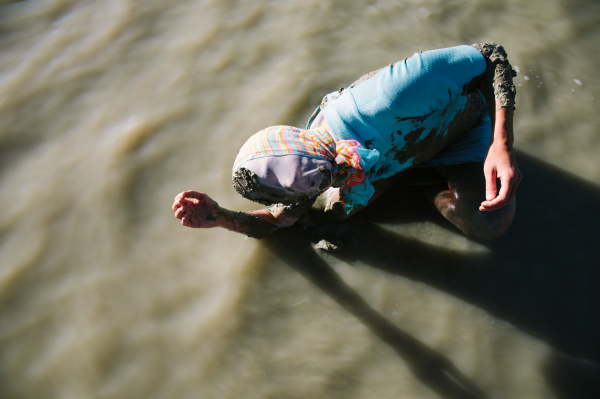 Mizu Desierto (They/Them) is an interdisciplinary artist and feminist farmer whose life = art research explores themes of gender fluidity, ancestry, social deviance, and radical creative living. They are the founder and director of Portland's Water in the Desert, a hub of numerous projects, including: The Headwaters Theatre, Prior Day Farm & the annual festival that is Butoh College. They have been studying, performing and teaching inside of the Butoh methodology for 23 years with many mentors, including The Ohnos, The Tamanos, Natsu Nakajima, Yumiko Yoshioka and Yukio Waguri.
James Harley is a Canadian composer teaching at the University of Guelph. He obtained his doctorate at McGill University after spending six years composing and studying in Europe (London, Paris, Warsaw). His music has been awarded prizes in Canada, USA, UK, France, Austria, Poland, Japan, and has been performed and broadcast around the world. Recordings include: Neue Bilder and ~spin~: Like a ragged flock.
As a researcher, Harley has written extensively on contemporary music. His books include: Xenakis: His Life in Music and Iannis Xenakis: Kraanerg. As a performer, Harley has a background in jazz, and has most recently worked as an interactive computer musician. www.jamesharleymusic.com
Nancy Ives, D.M.A (Manhattan School of Music) is Principal Cello of the Oregon Symphony and Instructor of Chamber Music at Lewis & Clark College. She is a member of the intrepid new music group fEARnoMUSIC, plays with the Palatine Piano Trio and the Rose City Trio, and is an in-demand guest performer with groups such as Chamber Music Northwest, Portland Piano International, 45th Parallel, Third Angle, the Oregon Bach Festival, and the Portland Cello Project.
Most recently, her compositions have been performed by fEARnoMUSIC, Friends of Rain, Portland Cello Project, and at Siletz Bay Music Festival, Oregon Bach Festival and OBF Composers Symposium.
Coffeeroastercellisto Justin Kagan has been playing music and caffeinating the world of Portlandia through his Badbeard's Microroastery since 2005. www.badbeardscoffee.com
Theresa Koon composes music primarily for the voice, emerging from an international performance career. Operas, song cycles and choral music make up the center of her work, generally inspired by texts that explore psychological themes or current events. When not composing, Theresa enjoys teaching Vocal Music Appreciation Classes for Friends of Chamber Music, and voice for PCC. She is the founding director of Opera For The Hesitant, dADa and other eclectic adventures. Mother of Exiles — her choral adaptation of the poem inscribed on the Statue of Liberty — will be released by PARMA Recordings in Spring 2020. www.promisetheopera.wordpress.com
After studying with Butoh masters Kazuo Ohno and Yoko Ashikawa in Tokyo in the late 80s and performing with Ashikawa's group Gnome, Joan Laage settled in Seattle and founded Dappin' Butoh in 1990. She is a co-founder of DAIPANbutoh Collective and has appeared in international butoh festivals. She creates site-specific work for Seattle Japanese gardens annually and tours every winter/spring in Europe. She is an avid Tai Chi practitioner and a professional gardener. Since living in Krakow 2004–2006, she has been known as Kogut (rooster).
Patrick Jiro Lee studied advertising at the University of Oregon. He believes in the power of art to illuminate, elucidate, and edify. Patrick has been doing the MMM brochures for several years now under the nom de graphique Atelier des Etoiles.
Stephen Lewis is a Portland-based composer, pianist, and conductor whose compositions inhabit the terrain between sound as physical sensation and sound as signifier of culture. Stephen's opera, Noon at Dusk, was hailed as "delectable," with a "constantly shifting sonic world [that] proved fascinating and effective." Stephen has also performed throughout the United States and in Italy. Stephen holds a Ph.D. in composition and a DMA in piano from UC-San Diego, and a BMus from the Oberlin Conservatory of Music. www.stephenlewiscomposer.com
Flutist Amelia Lukas performs with "a fine balance of virtuosity and poetry." (New York Times) Her recent engagements include solo appearances with Chamber Music Northwest, Fear No Music, Portland Taiko, the Astoria Music Festival, Music in the Woods, and for All Classical Portland broadcasts, with additional chamber and orchestral performances for the Willamette Valley Chamber Music Festival, Eugene Symphony, Portland Piano International, Friends of Chamber Music, 45th Parallel, Oregon Music Festival, and Bridgetown Orchestra. She holds degrees from the Manhattan School of Music and the Royal Academy of Music (London) where she received three prizes for musical excellence. amelialukas.com • alignedartistry.com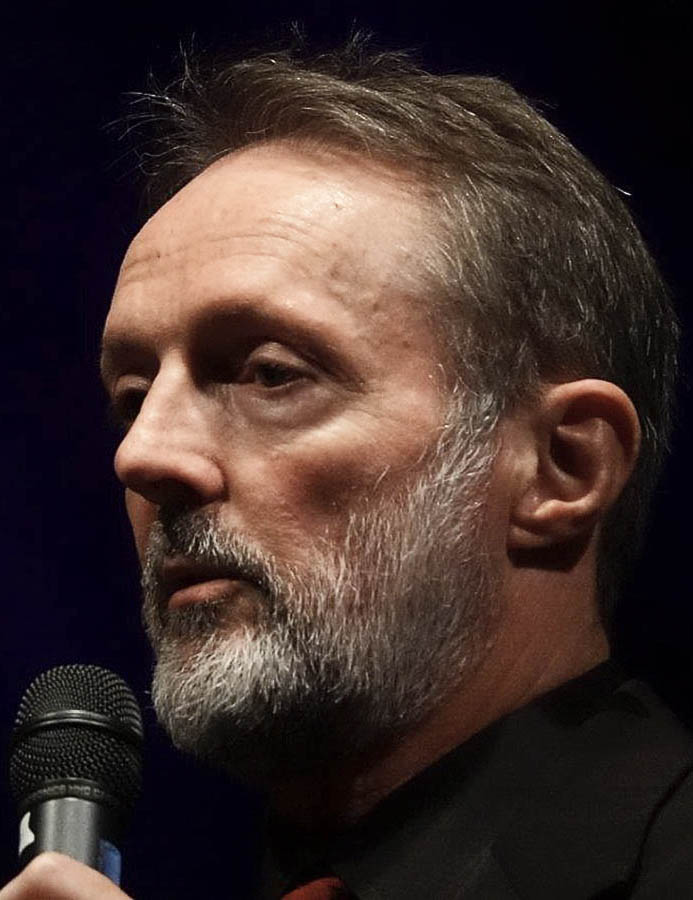 Robert McBride had a brief career as a rock drummer before wandering into classical music radio, where he worked for over 30 years as a programmer, announcer, producer, and recording engineer. Now he interviews musicians before concerts by the Oregon Symphony, Chamber Music Northwest, and others, and sometimes manages to get some music written. His arrangement of Goin' Home, for voice and string quartet, will be performed by bass-baritone Damien Geter and members of the Oregon Symphony at a Classical Up Close concert in April.
Chris Merrick: An incandescent aurora in the twilight dimness that is commercial media, the above named strives for excellence, exuberance, and an appreciation for the kaleidophonic wonderment that is KBOO radio, his home for many years. For a brief hour or two each lunar cycle, himself produces modern music and merry mayhem on misty Monday evenings. This is A Different Nature, his sole contribution to the betterment of the species. Results may vary.
Mezzo-soprano and composer Lisa Neher (DMA) thrives in the crossroads of the concert hall and the theatre stage. Trained as a stage actress, she is equally at home in the worlds of opera and spoken theatre, bringing dramatic specificity and committed physicality to her performances. Recently she was heard with Third Angle New Music, the Resonance Ensemble, Cascadia Composers, Opera Theatre Oregon, Queer Opera and at New Music Gathering in Boston. Lisa's music is infused with story and place. Her commissions include works for Third Angle, Resonance Saxophone Orchestra, Access Contemporary Music, and pianist Michael Kirkendoll. www.lisanehermusic.com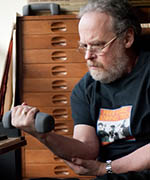 Bob Priest is founder & artistic director of Marzena (Seattle-Victoria-Portland), MMM, Free Marz String Trio & Ear Trumpet. After meeting Willie Mays & playing in sundry LA blues/rock bands as a kid, Bob went on to receive his Ph.D. @ the University of Victoria, where he taught the world's first college course on the music of Jimi Hendrix. He studied classical guitar with Pepe Romero & composition with Olivier Messiaen, Robert Ward & Witold Lutoslawski (Warsaw as a 2-year Fulbright scholar during Martial Law).
Music Director of the Portland State University Orchestra since 2006, Ken Selden has appeared as guest conductor of many orchestras and ensembles in the area, including the Oregon Symphony, Eugene Symphony, Newport Symphony, Vancouver Symphony, Third Angle and Fear No Music. In a previous lifetime, he conducted the National Arts Center Orchestra at the invitation of Pinchas Zuckerman, as well as orchestras of Brooklyn, Denver, Baltimore, Minnesota and North Carolina. Internationally, he has appeared with orchestras in Finland, Italy, Estonia, Romania and Belgium. Selden has worked with composers Pierre Boulez, John Cage and Tan Dun, and has conducted world premieres of music by Peter Lieberson, Michael Nyman and Stephen Paulus.
As a classical pianist, British-born Sequoia has worked for such companies as the Royal Opera House, English National Opera, Rambert Dance Company, the BBC Singers and the acclaimed music theatre group the Clod Ensemble. Since his arrival in Portland he is now working for Portland Opera & Opera Theater Oregon. He also enjoys working in progressive music outside of the classical box, and has performed and collaborated with the likes of rock legends Mark E Smith (The Fall), Damo Suzuki (Can), and jazz/improvising luminaries Meredith Monk, Jacqui Dankworth & Barb Jungr.
Tom Stiles is a recording engineer at Jack Straw Cultural Center, the Northwest's non-profit audio arts center, where he often hears voices in his head. He has recorded a lecture and performance series by Randolph Hokanson on the complete Beethoven piano sonatas. This is not Tom's first March rodeo.
Alan Sutherland first experienced Butoh in 1991 while attending Dappin Butoh shows to support his friend Helen Thorsen, who was a founding member of that troupe. His first performance was in 1996 when he was 42, after studying with Helen. He first met Sheri Brown when she came to classes he was leading in 2000. Since then they've performed together in Korea and Japan and San Francisco, and seemingly every single theater in Seattle.
Claire Sykes of Portland has been writing forever. Her poetry has appeared on Tacoma's city buses and in several literary journals; as a 13-poem narrative accompanying a rock-music/Native American dance production by Steven Wounded Deer Alvarez of Anchorage; and as music for cello and voice, by composer Elizabeth Blachly-Dyson, performed twice with Crazy Jane Composers. She's read publicly many times throughout the Northwest and self-published two chapbooks, The Listening Bell and Blind Light. Since 1990, Claire has been a freelance writer of magazine articles, mostly, covering the arts, health, philanthropy, business and community. www.sykeswrites.com
Jeff Winslow, a fourth-generation Oregonian, seeks the musical heart of natural and psychological landscapes. A late bloomer, his music was rarely heard until Gary Noland brought Seventh Species to Portland and invited him to join in, and David Bernstein asked him to be one of the eight founders of Cascadia Composers. His works have had dozens of performances since then, sometimes with the composer at the piano. oregoncomposerswatch.blogspot.com/2019/09/jeff-winslow.html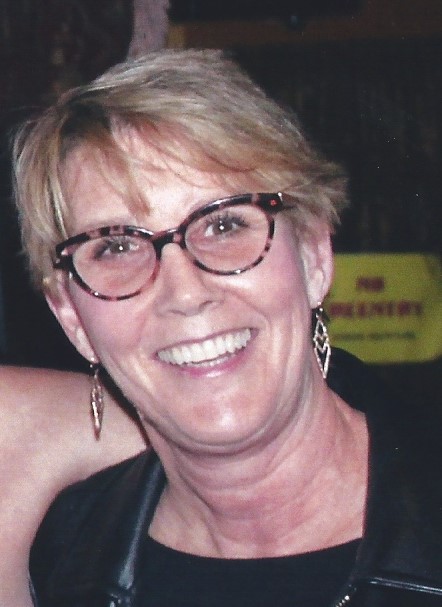 Linda Woody graduated in 2013 from Marylhurst University with a B.A. in Music and a B.M. in Composition. She studied music composition with Dr. Bob Priest and Dr. John Paul. She enjoys writing for a variety of music ensembles, including handbell choir, choral groups, middle school band and mixed instrumental groups. When Linda is not composing music or at the bench of Fernando, her grand piano, you will likely find her with her family and two dogs — enjoying any number of outdoor pursuits requiring specialized footwear. Linda is a board member of Cascadia Composers and Third Angle New Music.
---